Workshop | Le Raclet + Cachetejack x Graphic Days Torino
Data:
05/10/2019
Turin
Torino (TO)
Categoria Eventi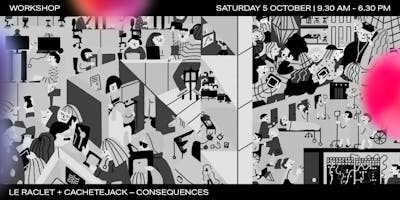 WORKSHOP | LE RACLET + CACHETEJACK X GRAPHIC DAYS TORINO titleConsequences tutorLe RacletCachetejackhttp://leraclet.com/en/http://cachetejack.com/ ITA about Il workshop si svilupperà nel progetto collettivo di una fanzine illustrata, che verrà stampata in serigrafia e rilegata. I partecipanti la realizzeranno utilizzando i principi del surrealismo e liberando la propria creatività. prerequisiti Questo workshop è adatto a tutti i tipi di creativi: illustratori, graphic designer o chiunque abbia una passione per l'arte. È richiesta una conoscenza base in Photoshop o Illustrator, mentre l'esperienza nella serigrafia non è obbligatoria. Si consiglia di portare i propri strumenti da disegno e il proprio laptop e vestiti che, in caso, si possano macchiare con l'inchiostro. Ci sporcheremo le mani. Il workshop si terrà in inglese. Con l'acquisto di un biglietto per questo workshop avrai diritto ad un buono sconto nominale del 25% sul prezzo del secondo workshop. Per ricevere lo sconto sul secondo biglietto scrivi a
[email protected]
prima di effettuare il secondo acquisto.
Se fai parte di un'azienda o sei un libero professionista (con partita IVA), contattaci all'indirizzo mail
[email protected]
per le offerte dedicate e per ottenere una fattura intestata. Se finalizzi l'acquisto su Eventbrite non potrai richiedere fattura successivamente. L'acquisto di ogni biglietto include la tessera associativa di Print Club Torino valida dal momento dell'acquisto fino al 31 dicembre 2020, del valore di 45€ ATTENZIONE In caso di acquisto del biglietto Studenti, verrà richiesto di esibire una tessera universitaria o documento che certifichi il proprio status di studente al momento del workshop. In caso di acquisto del biglietto per gli associati Print Club Torino, verrà richiesto di esibire relativa tessera che certifichi il proprio status di associato. ENG about This workshop aims at creating a collective illustrated fanzine, written and screenprinted by the participants, who will unleash their creativity following the principles of Surrealism. skills This workshop is suitable for all types of creatives: illustrators, graphic designers or anyone with a passion for art, who is able to work at a fast pace. Basic Photoshop or Illustrator knowledge is required, while experience in screenprinting is not a must. Bring your favorite drawing tools and your laptop, as well as clothes that you don't mind marking with ink, we will get our hands dirty.
  The workshop will be held in English. If you're a member of an agency or a freelancer with a VAT number, contact us at
[email protected]
for a dedicated promo and for a registered invoice, if you buy the ticket via Eventbrite you can't request the invoice. If you buy one workshop ticket you will have a discount of 25% on the price of the second workshop's ticket. If you want it contact us at
[email protected]
before the second purchase. The purchase of one ticket includes the 2020 Print Club Torino membership card (value 45€), valid from the day of purchase until the 31st of December 2020. ATTENTION In case of Students ticket purchase, university ID card or identification will be required at the beginning of the workshop. In case of Print Club Torino members ticket purchase, Print Club Torino membership card will be required. If you don't speak Italian please contact us at
[email protected]
to register. an event bywww.graphicdays.itwww.printclubtorino.itwww.plugcreativity.orgwww.tryagainlab.tumblr.comwww.quattrolinee.it