Vanini Masterclass 2019 - Euro
Dal
19/09/2019
Al
22/09/2019
Genoa
Genova (GE)
Categoria Eventi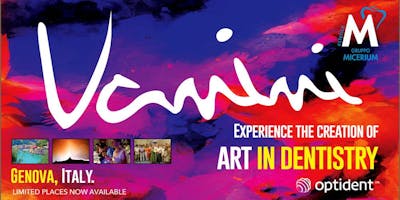 This year the Vanini Masterclass will take place at the home of HRi Composite at The Micerium Facility in the stunning area of Genova on the Ligurian coast. "Many experts do beautiful work but is it art?  What is the value of art if you do not teach others to do it? The tooth is not art but nature". Without doubt, this is a course that people will leave having gained a greater understanding of the nature of the tooth. Excellent testimonials showcase the success of the Vanini course – a much loved Optident event for over 15 years: "I had been meaning to do this course for years. For me, most UK courses don't compare with what can be learned with Dr Lorenzo Vanini. The first sight of Lake Como turns your senses to aesthetics. Dr Vanini explains how to interpret tooth colour with his patented colour chart, and how to transfer this into beautiful composite restorations." Dr Derek Allen, Gloucester. "Without question Lorenzo Vanini has set the standard for modern composite layering techniques. Getting hands on exposure to his treatment philosophies and case presentations, together with his expert hands on tuition really helped us build a new standard for not only the clinical case options at the practice, but also improve the teaching of modern composite techniques on our extensive modular courses at CADE.
This course is a must for anyone looking to achieve invisible anterior composite restorations. Highly recommended…" Dr Bob McLelland, Manchester. "An excellent course which combines theory and a practical workshop leaving the student with knowledge to place a truly superior composite filling in the patient's mouth." Peter Mantel, Cheshire. "I'm so glad that I have finally attended this course; it is everything I expected it to be.  From meeting the great team and likeminded colleagues, great nights to world class lectures and meeting Dr Vanini himself.  I would highly recommend this course to anyone considering it." Shin Kim, Newmarket. "Excellent location, Optident team were all very helpful & friendly.  The travel& hospitality was very well organised and the trip was incredibly fun.  I learnt a lot from the course, It was detailed and focused, I now have skills I can put into practice straight away." Amy Roberts, Poole. "Very educational and a very nice holiday at the same time.  Everyone was really friendly and the accommodation was incredible" Camille Ni Argain, Dublin.
"Great experience learning from Dr Vanini, Very thorough and inspiring presentation. A lot of one to one advice, detailed explanations and protocols looking forward to putting this into practice.  Also thank you to the amazing Optident team who went out of their way during the whole trip" Sophia Puri, Mitcham. "Excellent course.  Vanini is a Master and teaches gold standard dentistry.  Thank you for such a brilliant weekend." Thomas Gill, Poole. Dates Thursday 19th September 2019  –  Sunday 22nd September 2019. Itinerary Thursday 19th September- Arranged coach transfer for all delegates travelling to Genoa airport leaves at approx. 14:00 hours. Dinner booked for 20.00 hours in Camogli. Friday 20th September- Day one of the Vanini Masterclass course theory session. Approx start/ finish time 8:00 hours to 18:00 hours. Dinner at approx. 20:00 hours at a local restaurant in Camogli. Saturday 21st September- Day two of the Vanini Masterclass course theory and hands on session. Approx start/ finish time 08:00 hours to 17:00 hours. Arranged coach transfer from the venue to the Hotel Cenobio Dei Dogi.
Dinner at approx 20.00 hours at a local restauant in Camogli, this is optional. Sunday 22nd September- Sunday classed as a free day in Camogli for delegates to do as they wish shopping/ sightseeing. Delegates to make their own way to Genoa airport. The price includes: 3 nights' accommodation* at the elegant Cenobio Dei Dogi Hotel, Camogli on Thursday 19th, Friday 20th and Saturday 21st September. This hotel is situated on the edge of the sea, a stroll away from the shops and restaurants, and just a 20-minute journey from the Micerium training centre.    Coach transfer from Genoa airport on Thursday 19th to the hotel in Camogli. Meals, refreshments and entertainment throughout your stay** 2 days course fees at the Micerium Facility with Dr Vanini (daily coach transfer to and from the facility on Friday 20th and Saturday 21st September) Certificate with 14 hours verifiable CPD. We understand that following the course you may want to enjoy the hotel facilities, or explore Camogli and the sights further afield, so Saturday night is optional.  We will be organising a dinner locally, but should you choose not to join us, then we promise not to be offended Sunday is a classed as a free day to spend as you please * Double room for single occupancy including breakfast**Please mention any dietary requirements no matter how small, so that we can cater for everyone's needs.
Flight Suggestions: British Airways from London Gatwick    Departing Gatwick Thursday 19th at 07.05 arriving at Genoa at 10.10. Returning from Genoa on Sunday 22nd at 11.50 arriving at Gatwick 12.50. Airfrance/KLM from Manchester Departing Manchester with Airfrance Thursday 19th at 06.20 via CDG arriving at Genoa 11.15. Returning from Genoa with KLM on Sunday 22nd at 13.55 via AMS arriving at Manchester 19.00. AirFrance from London Heathrow Departing Heathrow Thursday 19th at 06.20 via CDG arriving at Genoa 11.15. Returning from Genoa on Sunday 22nd at 12.00 via CDG arriving at Heathrow 16.25. KLM from Birmingham Departing Birmingham Thursday 19th at 06.00 via AMS arriving at Genoa 13.25. Returning from Genoa on Sunday 22nd at 13.55 via AMS arriving at Birmingham 16.50. We have organised coach transport from Genoa airport which aims to leave no later than 2pm on Thursday 19th September in order to take the journey down to the Hotel Cenobio dei Dogi in Camogli. Refund policy Cancellations must be made in writing 30 days prior to the course, however all tickets have a €635.00  non refundable administration fee.
Please contact
[email protected]
for more information.