Data:
24/05/2019
Cologno Monzese
Milano (MI)
Categoria Eventi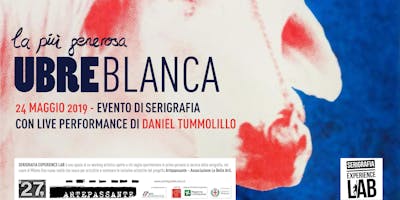 Inaugurato lo scorso ottobre, lo spazio Serigrafia Experience Lab vi invita all'evento di serigrafia che ospiterà l'artista e docente dell'Accademia di Brera, Daniel Tummolillo. Chi è Daniel? Cosa fa? Daniel, ormai da 14 anni, insegna e gestisce un laboratorio di serigrafia, prima presso la Fondazione Cova di Milano e dall' A.A. 2009/10 presso l'Accademia di Belle Arti di Brera. Da pochi mesi, ha messo in piedi "27 Screenprint Factory and Gallery", un piccolo laboratorio di serigrafia. Attualmente alcune delle sue serigrafie sono esposte presso la galleria "Espinasse31" di Milano. Cosa facciamo durante l'evento? Stiamo riportando alla vita la mucca più prominente di Cuba: Ubre Blanca. Dopo aver prodotto circa 100 litri di latte in un giorno, è diventata la mucca più famosa della storia per il popolo cubano. Durante l'evento Daniel terrà un discorso sull'arte della serigrafia nel contesto italiano e realizzerà una performance dal vivo creando un numero limitato di stampe 'Ubre Blanca' di sua interpretazione. Dopo la performance, sarà possibile acquistare le stampe 'Ubre Blanca' in diversi formati e superfici: su carta o tessuto.
Presenteremo anche altre opere di Daniel con la possibilità di prenotarle per l'acquisto in accordo con l'artista. Dettagli di partecipazione: L'ingresso è libero con tessera associativa Artepassante del costo di 3€. For ENGLISH read below: Inaugurated last September, The Serigraphy Experience Lab invites you to their very first Serigraphy event hosting a special guest: The artist and professor at Accademia di Brera, Daniel Tummolillo. Who is Daniel? Today Daniel teaches and manages a silkscreen printing laboratory, first at the Cova Foundation in Milan and by A.A. 2009/10 at the Brera Academy of Fine Arts. A few months ago, Daniel founded "27 Screenprint Factory and Gallery", a small silkscreen-printing workshop where he can freely concentrate on the images that he would like to see printed where he also collaborates with illustrators. Currently, some of his prints are exhibited at the "Espinasse31" art gallery in Milan. Activities during the event We are bringing back into life the most prominent and generous cow of Cuba: La Ubre Blanca. Born in 1972 in Cuba, Ubre Blanca had shortly become the most famous cow in the history and a national hero of Cuban people with her capacity of producing up to 100 kgs of milk per day.
During the event, Daniel will first give a talk about the art of serigraph printing in the italian context and will have a live performance to create a limited number of Ubre Blanca prints with his unique style. There will be the possibility to buy the freshly made Ubre Blanca prints applied on different surfaces: as posters and t-shirts. We will be exhibiting also other artworks of Daniel, ready to purchase on the spot. *Free admission including the Artepassante membership card for a small fee of 3 euros.