The SoapGirls - The Yellow Bar
Dal
07/10/2019
Al
08/10/2019
Rome
Roma (RM)
Categoria Eventi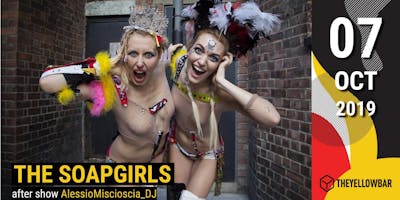 22:30 - 00.30 : THE SOAPGIRLSThe SoapGirls Armed with unforgettable melodies and catchy choruses, The SoapGirls energy, rawness and authenticity live, has earned them a formidable reputation. Performing continuously throughout 2017, these fearless French born sisters Millie and Mie, have slayed critics and earned a dedicated group of followers known as the 'The SoapSuds', who follow the band across the UK and Europe. The SoapGirls are society's rejects and their punk credentials were rubber stamped by scintillating performances at the legendary Rebellion Festival last year and such was the their success that they were asked back to play the Blackpool event again in 2018. The SoapGirls write outsider anthems that are androgynous, audacious and straight from the heart. Following the release of their album ​Societys Rejects,​ features on there band have appeared in Classic Rock, The Mirror and Vive Le Rock, while their last two singles were played on BBC Radio and play listed by Planet Rock Radio. Fighting prejudice and haters with a sword of honesty and a shield of integrity The SoapGirls have endured much, but have always risen above those that have sought to derail them.
The girls shine during their exhilarating, firework-strewn live performances, putting inclusivity and freedom of expression at the core of each show. Their common ground is grunge, but their ethic is punk. What's in a genre anyway? It's all music at the end of the day. The SoapGirls remind us that music can still be straight to the point, efficient, honest and exciting, so brace yourself for The SoapGirls's next chapter​. 22:30 - 03:00 >> Yellow Bar free access until the capacity is reached. It's requested to be a member of the Facebook Yellow Square Club group (except if you are a guest of the Hostel). Being a member does not give you the right to enter, if the Bar is full. Priority is given to the guests of the Hostel. Aftershow set by: ALESSIOMISCIOSCIA_DJFrom midnight to 3 am >> The Arcade Club - Private Party exclusive access reserved for bracelet owners and other guests up to the capacity. Our guests can enter anytime.------------------------------------------------------------------------------------Il Yellow Bar presenta:22:30 - 00.30 : THE SOAPGIRLSConcerto22.30 - 03:00 >> Yellow Bar accesso libero fino al raggiungimento della capienza del locale per i membri del gruppo Facebook Yellow Square Club con precedenza ai prenotati.
L'appartenenza al gruppo non garantisce l'accesso al Bar se il locale ha raggiunto la sua capacità massima.Dopo lo spettacolo: ALESSIOMISCIOSCIA_DJ Da mezzanotte alle 3 >> Arcade Club - Festa Privata accesso esclusivo riservato ai possessori di bracciale YellowSquare e agli altri invitati fino al raggiungimento della massima capacità del club.