Team Kanban Practitioner 1 Day Virtual Live Training in Rome
Data:
18/10/2019
Rome
Roma (RM)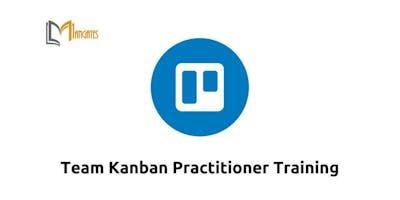 Course Description: The Team Kanban Practitioner class teaches the basics of the Kanban Method, a methodology for teams to reduce waste in current processes and optimize workflows. During this 1-day class, each participant will:  ●     Be able to design and implement a Team Kanban board. ●     Learn the basics of visualizing different types of work and associated risk. ●     Understand how to proceed to the next level with Kanban  Benefits of Taking This Course:  Become faster and more responsive with better risk management and governance. After taking this course participants will be able to:  ●     learn about various styles of team Kanban board and how to choose the correct style for their current way of working. ●     learn how to behave and collaborate when practicing Kanban at the team level. ●     implement a Team Kanban Board and get started. ●     have an appreciation of service delivery workflow Kanban pull systems. Course Outline:  Module 1: Introduction  ●     Definition of Kanban Method ●     The meaning of Kanban  Module 2: Understanding Kanban Systems  ●     Kanban Method Practice 1: Visualize ●     Kanban Method Practice 2: Limit Work in Progress (WIP) ●     Kanban Method Practice 3: Manage Flow ●     Kanban Method Practice 4: Make Process Policies Explicit  Module 3: Featureban Game  Module 4: Proto Kanban  ●     Kanban Method Practice 5: Implement Feedback Loop  Module 5: Commitment & Replenishment  Module 6: Closing Thoughts  Appendices: Kanban Values Exercise Learning Goals:  Individuals certified at this level will have demonstrated their understanding of:  ●     the Kanban Method.
●     how to design and implement a basic Kanban board. ●     work item types and the risks associated with specific work items. ●     the training roadmap and the value and benefits to be derived at each step in the Kanban Method.  Certification: Prerequisites: Course participants are encouraged to have read the book Kanban by David J. Anderson or Kanban from the Inside by Mike Burrows. Follow-on Courses: ●     Kanban System Design ●     Kanban Management Professional Course Materials: Students will receive a course manual with presentation slides and reference materials. Examination: There is no exam for this course. Certificate: Once after the training, we will provide you the course completion certificate Who can Attend? Audience: ●     Team members in professional services roles whose employer wishes to explore and pursue Kanban. ●     Those who feel overburdened and wish to find some respite to enable them to "get things done" with quality, improved speed, and predictability. ●     Managers and team members who need help focusing on what to work on now, what to leave until later and what to discard altogether.