Talk 05 | Graphic Days Torino
Data:
06/10/2019
Turin
Torino (TO)
Categoria Eventi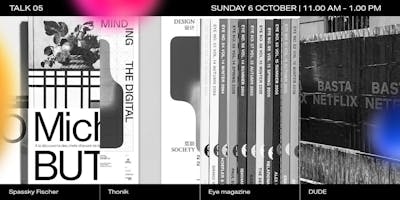 GRAPHIC DAYS TORINOTALK 05OCTOBER 6TH 2019 talkITA Dal 3 al 6 ottobre quattro giorni di conferenze con i big della comunicazione visiva internazionale. Tutto quello che avete sempre desiderato sapere sul mondo dei professionisti, raccontato in prima persona. Successi, aneddoti e scenari di chi ha trasformato la propria passione in una professione in continuo cambiamento.Se fai parte di un'azienda o sei un libero professionista (con partita IVA), contattaci all'indirizzo mail 
[email protected]
 per ricevere la fattura elettronica. ENG From October 3rd to 6th four days of conferences with the biggest international names from the visual communication field. Everything you have always wanted to know about the world of professionals, from their point of view. Successes, stories, backgrounds told by the people who have transformed their passion into an ever evolving career.If you're a member of an agency or a freelancer and you need to receive an invoice, contact us at 
[email protected]
guests ITA SPASSKY FISCHER / Il graphic design concreto e la fotografia emozionale Attraverso il lavoro dal libro al poster, Spassky Fischer presenterà la sua pratica concreta di progettazione grafica, la sua estetica funzionalista e l'economia dei suoi strumenti.
Il team metterà in discussione il suo gusto per il sistematismo, il suo desiderio di base, ma anche i limiti della loro pratica.   STUDIO THONIK / Why we design Roy Terhorst è uno dei senior designer di Thonik, specializzato in grafica e motion design. Si contraddistingue per la sua predisposizione alla sperimentazione e al gioco con le forme in movimento.Thonik ha recentemente pubblicato un libro riguardo alle domande e alle motivazioni legate al design dal titolo "Why We Design". Il libro affronta 11 temi differenti, e nasce con l'obiettivo di spiegare principalmente i lavori dello studio, ma anche le ragioni che stanno alla base della loro progettazione. Attraverso le nozioni di "radical", "concept", "empowerment" e "change", Studio Thonik ha esplorato il cambiamento del tempo, della società e della propria professione.Oltre ai nuovi media e al motion design, Roy parlerà dei concept del design: "per creare un'immagine forte e radicale bisogna partire da un buon concept, che spesso nasce dall'essenza stessa del compito."   EYE MAGAZINE / Eye magazine si racconta Eye è sempre stato il centro di una tempesta silenziosa di idee, proposte e progetti straordinari di varia natura.
Oggi Eye non può essere un news magazine perché è un trimestrale, ma il lavoro della redazione riflette il pensiero critico del nostro tempo in tema di design. Nonostante il magazine includa pezzi sulla storia del design e immagini di archivio, la redazione cerca sempre di scrivere articoli che abbiano una rilevanza dal punto di vista dell'attualità e che abbiano un significato relativamente a quanto succede nella contemporaneità. DUDE / Surprise, it's a fake. Nel mondo che mette a confronto l'intelligenza artificiale e l'interazione umana, la rincorsa ai big data e la ricerca dell'idea perfetta, quali sono gli ingredienti per una campagna memorabile? ENG SPASSKY FISCHER / Concrete graphic design and sensitive photography Through work from book to poster, Spassky Fischer will present his concrete practice of graphic design, his functionalist aesthetics and the economy of his tools. The team will question his taste for systematism, his desire for basic, but also the limits of their practice.   STUDIO THONIK / Why we design Roy Terhorst is a senior designer at Thonik, specialized in graphic and motion design.
He likes to experiment and plays with shapes in motion to discover new worlds.Thonik recently published a book about motivations in design under the title "Why We Design". In 11 themes they explain their body of work but also their reasons for designing. From 'radical' to 'concept' and ending with 'empowerment' and 'change' they explored the changing of the time, society and their profession.In addition to new media and motion design, Roy will talk about design concepts: "to make a strong and radical image you need a good concept. Good concepts often are born out of the very essence of the assignment."   EYE MAGAZINE / A talk with Eye Magazine Eye has always been at the center of a quiet storm of ideas, proposals and extraordinary work of all kinds. Now Eye is not a news mag because it's a quarterly printed magazine. But the editorial staff reflects current practice and contemporary, critical thinking about design. Though the magazine includes historical pieces and archive images, the editorial staff looks for subjects that have contemporary relevance, that have significance for what's happening right now.
DUDE / Surprise, it's a fake. In a world that compares artificial intelligence and human interaction, the pursuit of big data and the search for the perfect idea, what are the ingredients for a memorable campaign? about ITAGraphic Days Torino è il festival della creatività, della comunicazione visiva e della sperimentazione grafica. Le icone del graphic design internazionale verranno presentate durante 4 giorni di workshop, talk, performance, mostre, market e molto altro. ENGGraphic Days Torino is a festival to celebrate creativity, visual design and graphic experimentation.The festival is going to introduce the international icons of visual design through a 4 day-program of workshops, talks, performances, exhibitions, market and much more.  ATTENTION If you don't speak Italian please contact us at
[email protected]
to register. [an event by] www.graphicdays.itwww.printclubtorino.itwww.plugcreativity.orgwww.tryagainlab.tumblr.comwww.quattrolinee.it