Speedy Workshop - Lean & Agile framework: boosting innovation execution
Data:
07/11/2019
Bologna
Bologna (BO)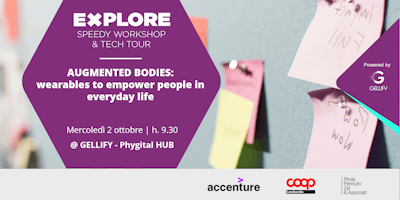 Agile is not a methodology, but a philosophy. It is a manifesto which exhibits basic principles. The main goal is the management of the life of a technology product / project without the rigidity and contradictions of the traditional "waterfall" method: distance between vision and implementation, low quality, difficulties in reacting to new input and priorities and adapting to continuous change.  Under the wide umbrella of "Agile", different methodologies were born over the years, aiming to implement operationally its principles (like Scrum, XP, Kanban). Regardless of chosen methodologies, common elements are iterative development and continuous feedback. Any Agile development project involves continuous planning, continuous testing, continuous integration, and other forms of continuous development of both the project and the application resulting from the Agile framework. The workshop – through theory and practice – aims at exploring the beneficial effects of agility from an entrepreneurial point of view. The innovation methods analysed will be those introduced by Scaled Agile theories in the latest years.
We will design together an actual Product, starting from a general vision and getting to the full Roadmap. Furthermore, we will practice seven different tools, made by GELLIFY by combining our Agile experience with some design-thinking techniques. During the day, we will create various tables to allow interaction and engagement among all the attendees, and each table will be guided in the definition of a Product Roadmap by Gianluigi Martina – Managing Partner & Founder @ GELLIFY, and Lucia Chierchia – Managing Partner & Head of Industry 4.0 @ GELLIFY. These experts are people who use and implement Agile methodologies in everyday activity and will be able to guide you through the workshop.   Why should you attend? The added values of this experience are:  Being able to interact with qualified experts of agile methodologies Obtaining guidelines to analyse and implement agile methodologies Using GELLIFY proprietary methods and tools to transform an idea into a Product Build together a real Product Roadmap Back to home with a powerful Toolbox for organizing your future Roadmaps   Who is this event for? CTOs, Developers, R&D Managers, Engineers, Innovation Managers, Operations Managers.
   AGENDA:  09.30 – 10.00: Check-in  10.00 – 10.30: intro to Agile Methodology  10.30 – 13.00: Workshop Part One (users definition, key features)  13.00 – 14.00: Lunch  14.00 – 15.00: Workshop Part Two (Roadmap definition)  15.00 – 15.30: Roapmap implementation guidelines  15.30 – 16.00: Take-aways and closing remarks