Sketch & Drink with Francesco Chiacchio
Data:
02/07/2019
Florence
Firenze (FI)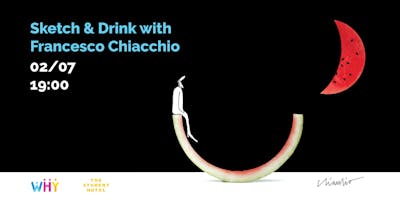 for English please scroll/ WHY graphic design festival vi invita a un aperitivo con sessione di sketch di gruppo insieme all'illustratore Francesco Chiacchio nel verde del cortile appena inaugurato allo Student Hotel.Unisciti a noi il 2 luglio alle 19:00 per imparare da Francesco come vive e lavora con i suoi quaderni di schizzi, vederne alcuni e scoprire come hanno contribuito all'evoluzione del suo ultimo libro "Acerbo sarai Tu".Disegneremo tutti insieme nel cortile e alla fine faremo una piccola mostra e discussione. Per favore portate uno sketchbook e tutti i materiali che preferite per disegnare.L'evento è gratuito e aperto fino all'esaurimento dei posti con una registrazione su Eventbrite.per altre informazioni
[email protected]
Francesco Chiacchio è nato a Firenze nel 1981, dove vive e lavora. Il suo lavoro spazia dal disegno al collage. Ha illustrato libri, dischi, poster e disegnato brevi storie a fumetti.Dal 2010 al 2012 ha illustrato le pagine culturali de La Repubblica di Firenze.Nel 2010 ha realizzato le immagini per il progetto multimediale X (Suite for Malcolm), composta dal sassofonista Francesco Bearzatti per il suo Tinissima Quartet, presentato in Europa e negli Stati Uniti.Del 2013 è la mostra "il segno come racconto" presso la Galleria Il Ponte di Firenze.
L'ultimo libro che ha illustrato è "Acerbo sarai Tu" di Silvia Vecchini (Topipittori, 2019).Francesco ama coltivare le parole nell'orto-grafia, annaffiarle con segni differenti, guardarle crescere da lontano e coglierle in un disegno.--- WHY graphic design festival is inviting you to an aperitivo and group sketching session with illustrator Francesco Chiacchio in the newly opened courtyard in The Student Hotel. Come and join us on July 2nd, at 19:00, to learn about Francesco's experience of living with sketchbooks, to see some of them and to know how it evolved into the definition of his last book "Acerbo sarai Tu". We will all together sketch in the courtyard, have a drink and then make a little exhibition and discussion in the end.Please bring with you a sketchbook and any materials you prefer for sketching.The event is free with limited sits. Registration is obligatory. for more information
[email protected]
Chiacchio was born in Florence in 1981, where he lives and works today.His work ranges from drawings to collages. He has illustrated books, records, posters and designed short comic stories. From 2010 to 2012 he illustrated the cultural pages of La Repubblica di Firenze.In 2010 he created the images for the multimedia project X (Suite for Malcolm), composed by saxophonist Francesco Bearzatti for his Tinissima Quartet, presented in Europe and the United States.In 2013, he inaugurated the exhibition "the sign as a story" at the Galleria Il Ponte in Florence. The last book he illustrated is "Acerbo sarai Tu" by Silvia Vecchini (Topipittori, 2019).Francesco loves cultivating words, watering them with different signs, watching them grow from afar and catching them in a drawing.