Secret Food Tours Bologna
Data:
21/10/2019
Bologna
Bologna (BO)
Categoria Eventi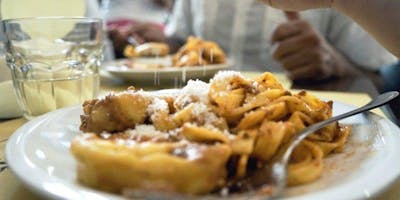 Did you know Bologna is known around the world as "The Fat City?" Think pasta, lots of pasta… A combination of flavorful ingredients, local produce, old-world knowledge and a centuries-old passion for food is why Bologna is the country's culinary capital. On our Secret Food Tours Bologna, you get to experience and taste delicious and traditional recipes, discover the secrets of homemade tortellini and tagliatelle, and savour Bologna's rich food history by visiting the places where locals eat and drink. By booking our Bologna Secret Food Tour we provide you with an experience above and beyond tasting some of the best Italian food in places where locals enjoy dining. We take you to a small trattoria to sample traditional Ragù alla bolognese (Bolognese sauce), sample and learn why a five year-old Parmigiano Reggiano is so special, sip 12-24 year-old balsamic vinegars from Modena, enjoy a carefully selected Charcuterie sampler from Emilia-Romagna and see how homemade, fresh pasta is created by Bologna's very own sfogline (pasta-makers). As we end your savory stroll through the city you will get to enjoy the best artisanal gelato in town.
Your entire Italian-gastro experience is infused in the heart of this medieval town at some of the best secret spots where locals eat, off the tourist paths. You and your family or friends will embark on a four-hour gastronomic tour among the medieval towers of Bologna. You will have the opportunity to discover what the local Italian food experience is, dine with the locals, and experience why our food and these place are so unique. We stroll through the ancient streets of Bologna, where every building, courtyard, and square has a story to tell. Let our passionate guide introduce you to this city and its culinary history. All your food and drinks (coffee and wine) are included in the price of the tour, as well as a professional local tour guide with a deep knowledge of Bologna's culture and food scene. At the end of the tour you won't just have a full belly, you will also have an insight on our history and plenty of local tips that will help kick-start your holiday in Bologna. When you come on our Bologna Secret Food Tour, you will get to try many different types of traditional culinary delights from Emilia Romagna: Let's start the day off right with a traditional Italian breakfast, coffee and a croissant.
After visiting one of the most beautiful squares in town, Piazza S. Stefano, we will walk through narrow medieval streets to do some Parmigiano Reggiano shopping. Then, we will visit a fresh pasta shop for a demonstration of how traditional hand-made pasta is created. After the demonstration we sample the best of the best. We then walk to the town's medieval food market, the Quadrilatero. At a traditional bottega we sample different types of 12 to 50 year-old balsamic vinegar from Modena. We will visit another bottega to select some local cheeses and a charcuterie sampler. Afterward, we will stop in Bologna's oldest tavern to enjoy our repast accompanied with a glass of the best local wine. We stroll through Bologna's main square to end our tour on a sweet note, a traditional artisanal gelato. Oh, and of course our delicious Secret Dish. Please note: the itinerary is subject to change, based on the locations availability and weather.