Photo Tour in Verona by Bike
Data:
21/10/2019
Verona
Verona (VR)
Categoria Eventi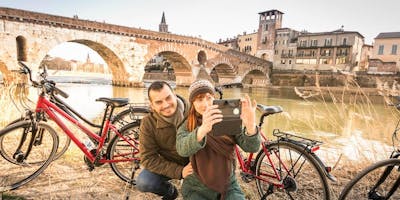 EN - Photo Bike Tour in Verona ツ The goal of this photo bike tour is to have fun while discovering how to take nice pictures around the city by bike. No matter if you use DSLR or smartphone. ☛ We will begin the photo tour at 100 Gradi Cafe where we will rent the bikes and I will briefly explain the creative process. After the photo tour, I will send you my e-book titled "The Photography Language". We will ride along the best streets and squares of Verona where I will show you the technique step by step and where we will start practicing it. ☛ You will be able to take and share marvelous pics experimenting with framing and lightning techniques (even with a smartphone).☛ The bike is included in the cost of the photo tour  ツ I will be happy to help you with tips and tricks that will change your way of taking pictures also with a postproduction session direct onsite sharing my workflow and apps.IMPORTANT: In case of cancellation due to bad weather, you can choose between another photo tour date or a full refund.     ITA - Tour Fotografico a Verona in Bici ツ Il fine ultimo è quello di divertirci mentre scopriamo come scattare fotografie migliori in giro per la città.
Non importa se usi una reflex o uno smarphone. ☛ Pedaleremo attraverso le vie e piazze più belle della città per scoprire le inquadrature migliori facendo pratica nelle diverse tecniche di composizione.☛ Il noleggio della bicicletta è incluso nel prezzo del foto tour. ツ Sarò felice di aiutarti con suggerimenti e trucchi che cambieranno il tuo modo di scattare foto e condividerò il mio flusso di lavoro e le mie app.IMPORTANTE:  Questo tour fotografico avrà luogo solo in condizioni climatiche favorevoli. In caso di annullamento a causa di cattivo tempo, potrai scegliere tra un'altra data o il rimborso completo.