Opening Talk | Astrid Stavro - Pentagram
Data:
03/10/2019
Turin
Torino (TO)
Categoria Eventi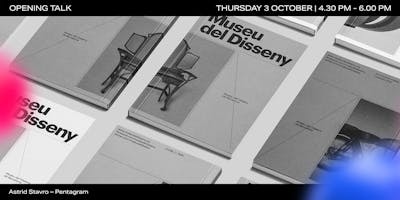 GRAPHIC DAYS TORINOOPENING TALKOCTOBER 3RD 2019 talkIT Dal 3 al 6 ottobre quattro giorni di conferenze con i big della comunicazione visiva internazionale. Tutto quello che avete sempre desiderato sapere sul mondo dei professionisti, raccontato in prima persona. Successi, aneddoti e scenari di chi ha trasformato la propria passione in una professione in continuo cambiamento.Se fai parte di un'azienda o sei un libero professionista (con partita IVA), contattaci all'indirizzo mail 
[email protected]
 per ricevere la fattura elettronica. ENG From October 3rd to 6th four days of conferences with the biggest international names from the visual communication field. Everything you have always wanted to know about the world of professionals, from their point of view. Successes, stories, backgrounds told by the people who have transformed their passion into an ever evolving career.If you're a member of an agency or a freelancer and you need to receive an invoice, contact us at 
[email protected]
about IT Astrid Stavro è una graphic designer conosciuta a livello internazionale per la progettazione concept driven: trasforma idee complesse in soluzioni semplici, efficaci ed emozionanti.Astrid racconterà, presentando una selezione dei suoi progetti più iconici, la sua esperienza a partire dal periodo in Spagna fino al diventare partner di un'agenzia di design di fama internazionale come Pentagram.
ENGAstrid Stavro is a graphic designer with an international reputation for concept driven design, distilling complex ideas into uniquely simple and emotionally engaging solutions. She is going to talk about the experience of running her own studio in Spain and then moving to the internationally renowned design agency Pentagram, showcasing a selection of her most iconic projects. ATTENTION If you don't speak Italian please contact us at
[email protected]
to register. [an event by] www.graphicdays.itwww.printclubtorino.itwww.plugcreativity.orgwww.tryagainlab.tumblr.comwww.quattrolinee.it