New Year's Eve Concert in Rome: The Three Tenors - Concerto di Capodanno a Roma: I Tre Tenori
Data:
31/12/2019
Rome
Roma (RM)
Categoria Eventi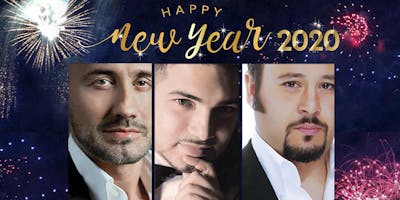 SPECIAL CONCERTS  DECEMBER 31TH 2019 JANUARY 1ST 2020   NEW YEAR'S EVE CONCERT   THE THREE TENORS: OPERA ARIAS, WALTZES AND CHRISTMAS SONGS h. 9 p.m.   The Opera e Lirica Three Tenors Carlo Napoletani, Emil Alekperov and GianCarlo Polizzy, from the most important Theaters in Rome, accompanied by a string quartet and piano, will perform a special programme of Opera Arias, Christmas Songs and New Year's Eve typical Waltzes.   Enjoy the New Year's night with The Three Tenors voices singing the best Christmas songs and Opera arias in this magic location full of mysticism, while the music of the typical Strauss Waltzes resounds within the Caravita Church golden walls. The perfect way to celebrate your New Year's night, right in the centre of Rome.   Children under 7 and the disabled can attend the concert for free. Approximate duration (min.): 90    CONCERT AND TOAST* h. 10:30 p.m. The magic evening goes on after the concert. New Year's Eve is a time to toast to a new beginning and usher in the New Year with hopes of joy and good health. Raise a toast to the New Year with sparkling Italian spumante together with The Three Tenors.
* Toast only for EXCLUSIVE AND VIP CATEGORIES GLI SPECIALI CONCERTI 31 DICEMBRE 2019 1 GENNAIO 2020   CONCERTO DI CAPODANNO   I TRE TENORI: ARIE D'OPERA, WALTZER E CANZONI DI NATALE h. 21:00   I Tre Tenori di Opera e Lirica Carlo Napoletani, Emil Alekperov e GianCarlo Polizzy, provenienti dai più importanti Teatri di Roma, accompagnati da un quartetto d'archi e pianoforte, si esibiranno in un programma speciale di Arie d'Opera, Canzoni di Natale e Waltzer tipici di Capodanno.   Godetevi la Notte di Capodanno lasciandovi trasportare dalle voci dei Tre Tenori che intoneranno le più belle Canzoni di Natale e Arie d'Opera, all'interno di questo luogo magico intriso di misticismo, mentre la musica dei tipici Waltzer di Strauss risuonerà tra le pareti dorate dell'Oratorio del Caravita. È il modo perfetto per festeggiare la Notte di Capodanno nel cuore di Roma.   I bambini di età inferior a 7 anni e I disabili possono usufurire dell'ingresso gratuito. Durata: circa 90 min.   CONCERTO E BRINDISI* h. 22:30 La magia della serata continua dopo il concerto.
Capodanno è il momento per brindare a un nuovo inizio e inaugurare l'Anno Nuovo con la speranza che sia all'insegna della gioia e della buona salute. Brindate al Nuovo Anno con calici di spumante italiano insieme ai Tre Tenori. * Il brindisi è riservato alle categorie EXCLUSIVE E VIP