IWWA Conference 2019: Italy, Austria, Germany
Dal
30/09/2019
Al
09/10/2019
Cologno Monzese
Milano (MI)
Categoria Eventi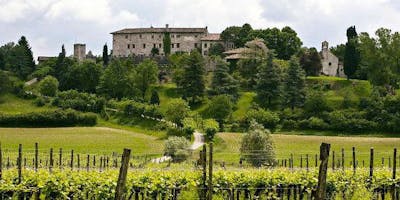 For those who travel from far and/or want to take the opportunity to see and visit the beautiful town Milan, you can use the same hotel and check in a couple of days earlier. Peter Kooy will be there on Sunday Sept. 29th. September 30th: Arrival via Airport Milan Malpensa/ Hotel Villa Malpensa. Shuttle available from airport to hotel. 13:00 (1:00pm) IWWA meeting for board members. Evening reception and dinner. October 1st:   Breakfast at Hotel Villa Malpensa prior for departing for the facility of Mr. Enrico Albertini /Monticello (65km, approximately 1.5 hours by coach). Lunch somewhere around Monticello. After lunch depart for hotel in Desenzano del Garda (125 km, approximately 1.5 to 2 hrs)  October 2nd: After breakfast depart for Castello rive d'Arcano (275km, 3.5 hours). Lunch in the neighbourhood of the castle. Afternoon visit to the castle and surrounding winery. Depart in late afternoon for Hotel Meditur (north Udine). October 3rd: Depart for Marano Lagunare (50km, approximately 45 minutes) to the ferry to Isola di Sant'Andrea where Guiseppe Tedesco's bird collection.
Good opportunities for bird watching from the boat. Back to the mainland in the late afternoon to Hotel Meditur. October 4th: After breakfast travel through the Alps to Salzburg, Austria. About halfway (200km, 3 hours) we will stop for lunch at Sankt Michael im Langau. After lunch complete the trip to Saltzburg (140km, 2 hrs). October 5th:   Travel to two aviaries: Mr. Wimmer's facility in Michaelsbeuern and Mr. Fellner's in Feldkirchen. In the late afternoon return back to our hotel in Salzburg (40km, approximately 45 minutes). October 6th: Sightseeing in Salzburg in the morning, lunch on your own. At 14.00 (2pm) leaving for Cham in southeast Germany (200km, approximately 3-3.5 hours). Arrival at our hotel in the late afternoon. October 7th: After breakfast visiting two bird collections: Petra and Heinz Gruber's facility and Karl Büchler's. October 8th: Depart for Zoo Schmiding in Krenglbach (180km, 2.5 hrs), visit the museum there, including a talk by Dr. Wolfgang Artmann. Depart for hotel in Vienna in the afternoon (200km, approximately 3-3.5 hours). Late afternoon arrival at Hotel in Vienna.
Dinner on your own. Note: For those who would like it Peter can provide a proposal to have an evening of Strauss and Bach on October 8th (music and dinner) at the Schönnbrunn castle. If interested, please contact Peter directly here or by telephone. October 9th: After breakfast, the end of our tour. Flights home or continue on to tour Vienna.   Price includes 9x hotel nights, 9x breakfasts, 8x lunches, 8x dinners, boat tour to the Island Isola di Sant Andrea, and all 7 days of transport from Milan to Vienna. Hotel is based on double occupancy, single occupancy will be higher. For those interested in saving the online registration convenience fee, please contact Ali Lubbock (USA) or Peter Kooy (Holland) to pay by check.