I Virtuosi dell'opera di Roma - Enchanting Opera Arias at Saint Paul within the walls Church
Data:
05/10/2019
Rome
Roma (RM)
Categoria Eventi Musicali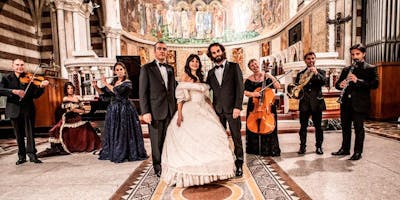 Enchanting opera arias | Le più belle arie d'opera The show " Le più belle arie d'opera – Enchanting Opera Arias " introduces the fascinating world of lyrical Opera.Throughout unforgettable ouvertures, enchanting arias, amazing duets, the famous Orchestra I Virtuosi dell'opera di Roma and its internationally renowned singers perform an incredible journey in between great music and belcanto. Lo spettacolo "Le più belle arie d'opera – Enchanting Opera Arias" propone un viaggio nell'affascinante mondo dell'opera lirica. Attraverso le principali arie, le ouvertures più avvincenti, i duetti più conosciuti, l'Orchestra de I Virtuosi dell'opera di Roma con i propri cantanti di fama internazionale, regala un'esperienza indimenticabile tra grande musica e bel canto. Atto IG.VERDI – "LA TRAVIATA"PreludioOrchestraW. A. MOZART – "LE NOZZE DI FIGARO"Non più andrai, farfallone amorosoBaritonoG. ROSSINI – "IL BARBIERE DI SIVIGLIA"Una voce poco fàSopranoW.A. MOZART – "DON GIOVANNI"Là ci darem la manoSoprano e BaritonoJ. OFFENBACH- "I RACCONTI DI HOFFMANN"BarcarolaOrchestraG.
PUCCINI – "TOSCA "E lucean le stellleTenoreG. VERDI – "NABUCCO"Va' pensieroSoprano, Tenore e Baritono Atto IIG. BIZET – "CARMEN"Entr'acte IIIOrchestraG. PUCCINI – "LA BOHÈME "Quando me'n voSopranoG. ROSSINI – "L'ITALIANA IN ALGERI"Le femmine d'ItaliaBaritonoG. VERDI – "RIGOLETTO"La donna è mobileTenoreP. MASCAGNI- "CAVALLERIA RUSTICANA"IntermezzoOrchestraG. PUCCINI – "GIANNI SCHICCHI "Oh mio babbino caroSopranoG. ROSSINI – "IL BARBIERE DI SIVIGLIA"Largo al factotum della cittàBaritonoG. PUCCINI – "TURANDOT"Nessun dormaTenore G. VERDI – "LA TRAVIATA "Libiamo ne' lieti caliciSoprano, Tenore e Baritono St Paul Within the Walls Church The Church of St Paul within the Walls was the first non-Catholic church in Rome, built after the Unification of Italy.It was Reverend Robert J. Nevin who bought the land and obtained the necessary authorizations from the Italian government. The Church was built by the English architect George Edmund Street from 1873 to 1880 in the Romanesque-Gothic style and is characterized externally by red brick alternating with travertine.
The interior has three naves where stand out the stained glass windows which depict the life of St. Paul and mosaics depicting the Apocalypse. Moreover, are depicted in mosaic some of the Fathers of the Church, and the curiosity is that some characters of the nineteenth century have lent their faces for their realization: therefore St. Andrew has the face of Abraham Lincoln; St. James of Giuseppe Garibaldi and St. Patrick of General Grant, star of the American Civil War.