Great Carnival Concert with dinner
Data:
01/03/2019
Florence
Firenze (FI)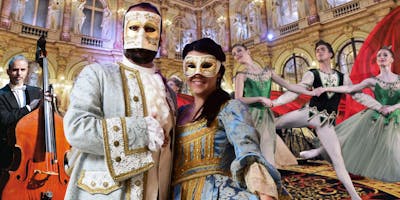 In the colorful and folkloric atmosphere of carnival, the melodies of the musicians of Opera in Rome will delight the public. Great singers will perform the most suggestive Opera arias by Verdi, Puccini, Tchaikovsky and other renowned composers, in the one of the must wonderful place in Florence, the Sala della Musica of Relais Santa Croce. The masterful soprano and tenor voices, embellished with the melody of a Chamber Ensemble with violin, double bass and piano, will enchant the public in the most colorful day of the year. The ballet, perfomed by graceful and elegant classical dancers, dressed in costume with typical venetian masks, will exalt this unique and unrepeatable event. Before the concert, you can taste a delicious dinner in the Guelfi e Ghibellini Restaurant.  A voyage in the heart of Bel Paese cannot end without a suggestive tasting of the incredible Tuscan culinary excellence between the eighteenth-century walls of this beautiful restaurant in the heart of Florence.

THE BEST MEMORY YOU CAN BRING BACK WITH YOU FROM ITALY.
Altri Eventi Per Te