FULL FRIDAY Talks | Graphic Days Torino
Data:
04/10/2019
Turin
Torino (TO)
Categoria Eventi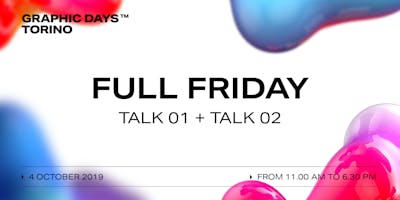 GRAPHIC DAYS TORINOFULL FRIDAY TALKSOCTOBER 4TH 2019 talkIT Dal 3 al 6 ottobre quattro giorni di conferenze con i big della comunicazione visiva internazionale. Tutto quello che avete sempre desiderato sapere sul mondo dei professionisti, raccontato in prima persona. Successi, aneddoti e scenari di chi ha trasformato la propria passione in una professione in continuo cambiamento.Questo biglietto consente di assistere ai due talk della giornata:TALK 01 dalle 11:00 alle 13:00TALK 02 dalle 16:30 alle 18:30Il pacchetto giornaliero sarà acquistabile fino al 5.09.2019.Se fai parte di un'azienda o sei un libero professionista (con partita IVA), contattaci all'indirizzo mail
[email protected]
per ricevere la fattura elettronica. ENG From October 3rd to 6th four days of conferences with the biggest international names from the visual communication field. Everything you have always wanted to know about the world of professionals, from their point of view. Successes, stories, backgrounds told by the people who have transformed their passion into an ever evolving career.This ticket is valid for the talks of day:TALK 01 from 11:00 to 13:00TALK 02 from 16:30 to 18:30You can book this ticket until September, 5, 2019.  If you are a member of an agency or a freelancer and need to receive an invoice, contact us at
[email protected]
guests ITTALK 01 TSTO / La breve storia di Tsto – uno studio di graphic design  OLIVIER KUGLER / Escaping Wars and Waves: un documentario sui rifugiati siriani  HIGH ON TYPE / Being high on type SURPRISE GUEST / Presto online TALK 02 CACHETEJACK / Attenti all'intuito.
  FIELD / Comunicare le nuove tecnologie  STUDIO YUKIKO / Come si trova la motivazione anche nella routine? MARCO TORTOIOLI RICCI - AIAP / L'impatto della comunicazione visiva ENGTALK 01 TSTO / A short history of Tsto – a graphic design studio OLIVIER KUGLER / Escaping Wars and Waves: Drawings with Text documenting the circumstances of Syrian Refugees HIGH ON TYPE / Being high on type SURPRISE GUEST / Soon online TALK 02 CACHETEJACK / Be alert of your intuition FIELD / Communicate new technologies STUDIO YUKIKO / How to stay motivated and grow in your daily practice MARCO TORTOIOLI RICCI - AIAP / The impact of visual communication about ITGraphic Days Torino è il festival della creatività, della comunicazione visiva e della sperimentazione grafica. Le icone del graphic design internazionale verranno presentate durante 4 giorni di workshop, talk, performance, mostre, market e molto altro. ENGGraphic Days Torino is a festival to celebrate creativity, visual design and graphic experimentation.The Festival is going to introduce the international icons of visual design through a 4 day-program of workshops, talks, performances, exhibitions, market and much more.  ATTENTION If you don't speak Italian please contact us at
[email protected]
to register.
[an event by] www.graphicdays.itwww.printclubtorino.itwww.plugcreativity.orgwww.tryagainlab.tumblr.comwww.quattrolinee.it