Fashion 4.0 Manufacturing Summit
Dal
07/11/2019
Al
08/11/2019
Assago
Milano (MI)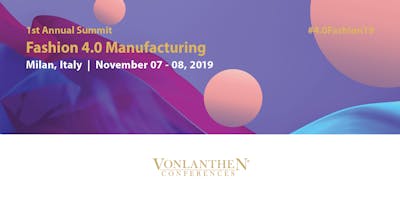 This premier B2B event will enable participants to learn about the latest developments and innovations in the fashion and textile industry. Fashion is currently facing new challenges posed by technological revolution. What will it mean for the fashion business at all stages starting from manufacturing and supply chain processes? The first Fashion 4.0 Manufacturing Summit will be focussing on the latest trends in fashion manufacturing, sustainability, intelligent, highly advanced and performing fabrics, alternative natural fibres, recycling, innovative new 3D printers, virtual and programmable fashion and wearable technology. It's estimated that we consume 80 billion pieces of clothing per year. Consequently, millions of tons of textiles are discarded each year, placing an increased pressure on the Earth's decreasing natural resources. As we look for ways to balance our love of fashion with conscious consumption it's important that we are aware of the materials used in our clothing and soft goods. First, we will discuss the interaction of ecology and technology, the challenges and goals of sustainable textiles in the fashion industry and explore ways members of our community are minimising their impact on the environment through waste reduction, new techniques, technologies and trends.
Second, we will discuss the best practices to enable intelligent manufacturing, megatrends in textile production digitalisation, predictive analytics and blockchain transforming the fashion supply chain process. This Summit will also focus on how technology will improve clothing for our everyday lives and recent advancements in garment and apparel technology. And as our "real" lives become increasingly mixed with a virtual existence, many designers have been experimenting and pushing the limits of wearability with smart clothing, wearable spaces, multi-functional designs and responsive sportswear. From artificial intelligence, bio-textiles and zero waste productions, our event will cover the latest technological advancements in the various fields of fashion and textile technology. Over two days, leading experts will deliver their presentations on the new opportunities provided by best technological practices. Case study discussions will help participants understand and build their own business cases adapted to Fashion 4.0 challenges. The Fashion 4.0 Manufacturing Summit is a result of fruitful collaboration between leading scientists, manufacturers, businessmen and designers.
Join us in Milan for two days of practical workshops and inspiring case studies discussing the future of the fashion industry.