Christmas Concert with the Three Tenors + Dinner
Data:
01/12/2018
Florence
Firenze (FI)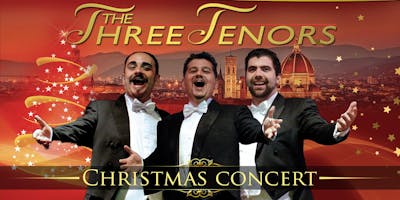 Have a wonderful Italian Christmas with the Three Tenors and opera arias, Neapolitan songs and the most famous Christmas songs. Inspired by the world-renowned show of Luciano Pavarotti, Plácido Domingo and José Carreras. This unforgettable concert will leave a wonderful memory of your journey in Italy. Three masterful Tenors will perform the masterpieces which brought fame to Italy all over the world, in this unique occasion accompanied by a chamber ensemble of mandolin, doublebass and grandpiano. This tribute to the great Pavarotti features the three performing some of the most famous arias from La Traviata, Rigoletto and Tosca, among others affecting you with the joy of Naples and its songs. Favourites such as Funiculì Funiculà and Torna a Surriento will make this celebration of the greatest artist of all times unforgettable.Before the concert, you can taste a delicious dinner in the Guelfi e Ghibellini Restaurant.

A voyage in the heart of Bel Paese cannot end without a suggestive tasting of the incredible Tuscan culinary excellence between the eighteenth-century walls of this beautiful restaurant in the heart of Florence. THE BEST MEMORY YOU CAN BRING WITH YOU FROM ITALY.