A Well Nourished Life: Mindful Eating and Living
Dal
18/06/2020
Al
23/06/2020
Foligno
Perugia (PG)
Categoria Eventi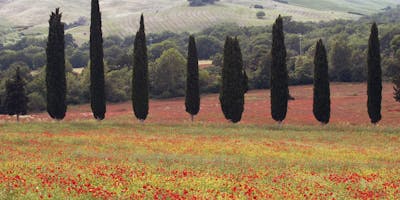 Course Description This course is designed for medical providers and healthcare professionals.  During this 5 day retreat-like seminar we will explore together the elements of a well-nourished life in the beautiful setting of Umbria. Particular attention will be given to evidence-based tools and practices of mindful eating and living. You'll be able to immediately apply these tools in your own lives as well as with patients to help improve resilience, health and well-being and cultivate a more balanced, wiser, healthier relationship to food. Session themes and practices include cultivating foundational practices and qualities that enhance well-being in everyday life: meditation practice, mindful eating, movement and yoga, self-compassion, lovingkindness and how to stay present and embodied in the moment. We will work with difficult mind states and use the power of intention to create sustained and meaningful change. You will leave with a jewel box of practices to inform work with patients and your own self-care for a long time to come. Faculty  Andrea Lieberstein, MPH, RDN, RYT, is founder of the Mindful Eating Training Institute and trains health professionals in embodying mindfulness practice through her evidence-based professional mindful eating and living trainings and retreats.
She is bestselling author of the book, Well-Nourished: Mindful Practices to Heal Your Relationship with Food, Feed your Whole Self and End Overeating" and additionally offers coaching, programs and retreats for the general public. A mindfulness practitioner for over thirty years, she spearheaded Mind Body programs at various Kaiser Permanente Northern California centers, for many years, and has degrees from Stanford University and the University of California at Berkeley.  www.mindfuleatingtraining.com, yourwellnourishedlife.com.  Registation Step 1 Register for the Program Now Registration is open now and early enrollment is encouraged  Register here at eventbrite or contact us at + 1 415 812 2576 Step 2 Book Your Accommodations After you have registered we will send you a confirmation letter along with information on how to book your accommodations at Villa Zuccari The Villa is offering our group a preferred rate which includes a full breakfast and lunch each day and other amenities starting at 80 euros per person, which is not available to the public Your accommodation is a separate fee, paid directly to the Villa and is coordinated by Villa Zuccari staff. Villa Zuccari (Umbria) + 39 0742 399 402 
[email protected]
  VILLA ZUCCARI RATES Per person per night, includes Breakfast & Lunch Classic Double Room € 90 Classic Double Room single use € 130  Superior Double Room € 105 Superior Double Room single use € 145  Deluxe Double Room € 120 Deluxe Double Room single use € 170  Junior Suite € 135 Suite € 145 Torretta € 160 VILLINO & CASETTA Double Room € 80Double Room single use € 120 Step 3 Sign-up for Optional Activities and Excursions Your afternoon after lunch is open We encourage for you to participate in the activities offered to enhance your experience Activities and excursions are separate fees, paid on site and will be coordinated by our team Step 4 Book Your Flight Choose to fly with the airline of your choice We can help if you have any questions Plan to arrive to the Villa Zuccari by 4pm June 18, 2020 (Welcome Reception will start at 7pm and is an integral part of the program) Airfare is a separate cost  Step 5 Plan your Transportation from the Airport to Villa Zuccari The airport is approximately 100 miles to Villa Zuccari and it may take 2-2.5 hrs to get to there If renting a car and driving, using GPS, input San Luca for Montefalco (Provice of Perugia) Villa Zuccari is in San Luca, which is a suburb of Montefalco By train, from the airport in Rome (FCO) take the train to Termini Station into central Rome then buy train ticket to Foligno Visit Trenitalia website, for information.
We suggest you buy your ticket in Italy, not online.   There are taxis at the train station in Foligno, for approximately 30-40 euros Villa Zuccari also offers transportation to and from the Foligno train station for approx. 40-60 euros Call us if you need assistance. We can support carpooling with other participants.    Contact us at anytime We will gladly assist you with any of your questions and inquiries REFUND POLICIES Course Registration Cancellation Policy You must email your cancellation request to
[email protected]
; 100% of paid registration fees, less a $50.00 administration fee per registration, will be refunded for cancellations received by or before March 31st, 2020; 25% of the paid registration fees will be refunded on all cancellations made between April 1st and May 31st, 2020; There are no refunds after June 1st, 2020. Villa Booking & Cancellation Policy At the time of booking, a 1-night non-refundable deposit secures the reservation; Cancellations received within 15 days prior to arrival date will be subjected to a penalty of 25% of total stay; Cancellations received within 7 days prior to arrival date will be subjected to a penalty of 50% of total stay; In case of no-show or early departure, you pay total stay.